As Radja Nainggolan nears Inter; what can the Belgian bring to the San Siro?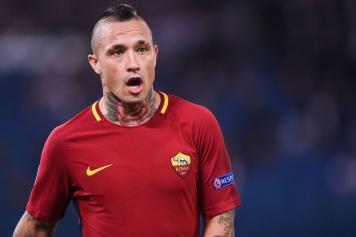 18 June at 19:10
Recent news is suggesting that AS Roma's Belgian midfielder Radja Nainggolan is nearing a move to Inter Milan. A deal appears to be in place, or close, and Inter are hoping that Nainggolan, at 30-years-old, can be key in their return to the Champions League.
However, the matter that needs to be addressed is how Nainggolan will fit in at Inter. Inter Milan have a lot of talented central midfielders and this article will aim to pick apart just how he is still an important acquisition for this Inter team.
Play-style
Radja Nainggolan is an extremely well rounded midfielder. Therefore, he is able to play not only as a central-midfielder but also in both the attacking and defensive CM variations.
Going forward, Nainggolan is an extremely creative attacking threat. He possesses the vision and technical abilities of an advanced playmaker, whilst able to unleash devastating shots from both inside and outside the box. In the 17/18 Serie A season for Roma, Nainggolan scored 4 and assisted another 9. His through balls are vital for helping his team score goals and his passes are, more often than not, perfectly weighted.
In the heart of midfield, it is Nainggolan's first instinct to try and drive his team forward. The Belgian is very quick on the ball and often uses his first touch to switch the direction of play; escaping the attention of pressing opposition. Using powerful strides forward, he enjoys to exploit the space between the defence and the midfield of the opposition.
To sum up Nainggolan defensively there is only one word to describe him: tenacious. If he gets caught out and loses possession, he will work extremely hard to win the ball back.
Nainggolan enjoys staying on his feet when tackling as much as possible; he is strong and can often muscle opposition off the ball. He is good at reading the passing lanes of his opponents and often intercepts, quickly helping transition play forward from defence to attack.
As far as weaknesses go, Nainggolan possesses few. At just 176cm (5"7), Nainggolan is perhaps too short to be relied on often as a defensive midfielder. A lack of aerial ability means that balls can often be played over him, yet his aforementioned tenacity usually makes up for it.
How would he fit in at Inter?
Inter Milan manager Luciano Spalletti, who it is worth noting managed Radja Nainggolan during his 2
nd
spell with Roma, has primarily played a 4-2-3-1 this season. However, it fluctuated between a 4-3-3 and a 4-3-1-2 when Spalletti deemed it necessary.
In the 4-2-3-1 there are two roles that Nainggolan could quite easily fit in. Rafinha was deployed as the central attacking-midfielder in the 2
nd
half of Inter's 17/18 season. However, as negotiations draw on with Barcelona for Rafinha, whether he is at Inter next season is in the balance. Therefore, Nainggolan could operate as an attacking midfielder for Inter Milan. Here, he would likely operate alongside Ivan Perisic and Antonio Candreva, who enjoy to spread out wide.
Nainggolan's defensive abilities could be a surprising asset in this attacking role as he could be told to put pressure on the opponent's back line. With his defensive abilities, this could lead to quick turnovers in possession in extremely dangerous territory. Playing just behind Mauro Icardi, Nainggolan's through balls would be useful and could lead to one of the top scorer-assister partnerships in Serie A.
Alternatively, should Rafinha move permanently to Inter, Nainggolan could be played in the central midfield options that were filled mainly by Matias Vecino and Marcelo Brozovic. In theory, Nainggolan would fit perfectly into this flat midfield duo; either operating Brozovic's box-to-box or Vecino's more-defensive role. He possesses the ability for both roles and it will be interesting to see just how Spalletti decides to utilise him.
@snhw_