Asensio reveals why Mariano took Ronaldo's #7 shirt at Real Madrid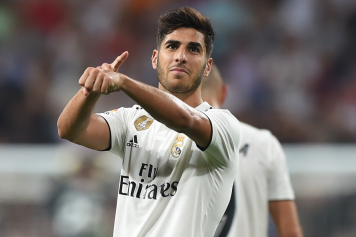 21 November at 18:00
In the past few days, Real Madrid star Marco Asensio has been the source of much speculation, after suggesting to the media that he cannot be the one who pulls the team forward and that responsibility lies with others within the team. Speaking to
Marca
, however, Asensio clarified his comments, as well as revealing why Mariano took Ronaldo's number seven shirt at Real Madrid.
"I think my words have been misinterpreted. I want to be an important player, pulling the cart together with my teammates. I want to take this responsibility, I just wanted to say that I respect the roles and the hierarchies there are in the team. Respecting expectations - It depends on expectations - I cannot score three goals per game but I want to be an important player for Real Madrid and I want to keep winning trophies here. My teammates are great players and there is always a lot of competition, you always have to be at the top of your game."
"The number seven? We have not talked about it much, I was not told anything. Mariano arrived and took it. I do not think we should give too much importance to this shirt."
For more news, views and features,
visit our homepage.