Aurelio De Laurentiis: 'Juventus have always been helped, they are the masters of Italy'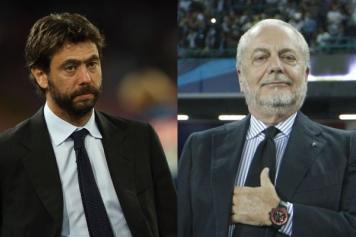 20 May at 12:00

Napoli president Aurelio De Laurentiis spoke to Radio Kiss Kiss Italia after the Napoli-Inter about Napoli, Juventus, the city.

"Ancelotti has been constantly competing with Sarri, but he has worked a lot for Napoli and to plan next year's team. It was a second place with 13 points ahead of Inter, we are second to Juventus.
"We need to put in place an attack and full backs, when they are put in place then we would have taken one more step. A certain part of fans always looks to Juventus, we must do our own championship and we must not always look at Juventus, they have been going on for 120 years with the same company and they have always been helped because they have been, from other points of view, the masters of Italy.
"Naples does not have the same resources as Turin and therefore it is necessary to use the brain to take the right people.
"They make 5 million gate receipts against Ajax for 35 thousand seats, we take 2 million with 40 thousand.
"A certain type of fan, however, would like someone to get into debt to take Messi and Icardi to respond to the purchase of Ronaldo.
"It is difficult to convince some players and some wives to come to Naples because the city does not enjoy excellent publicity due to the atmosphere of serenity and justice that one breathes. We have 40 million fans who appreciate us and we can become 80 million because we still have to explore the East and Australia.".