Balotelli hits back at criticism with hilarous social media post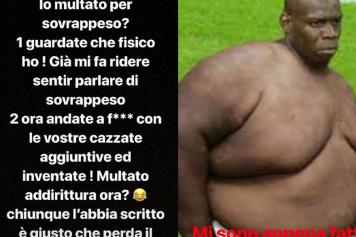 15 September at 17:15
Mario Balotelli against everyone. The striker of Nice and the National team is on Instagram, publishing a story in which he responds to those who criticize him for overweight to the training at the beginning of the season:
"Me fined for being overweight? 1 Look at the physique I've got! It's laughable that you talk of me being overweight," he wrote on Instagram Stories.
"2 Now go **** yourselves with your invented garbage! Now you even say I've been fined? Whoever wrote that ought to lose their job."
I just took this selfie! All doubts cast aside!"
It was reported by the Sun yesterday that he was fined and according to their headline it was because he is in a 'Super Size Mario' shape as he reportedly turned up for pre-season training and weighed in at a whopping 103kg.
Balotelli has only played one game since the start of Ligue 1.