Barca introduces their newest addition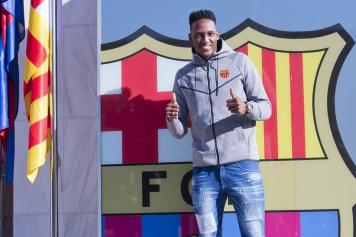 13 January at 18:00
Yerry Mina appears to be enjoying his time with Barcelona. The Colombian defender said he is "very happy and calm" in the first press conference as a player with FC Barcelona.
Before the press conference, however, the second Barça reinforcement acquired during the winter had a busy schedule of events, in which he was introduced in public, with 8,552 spectators who waved Colombian flags at Camp Nou. The introductions ended with a massive press conference with more than 100 accredited journalists from 70 media outlets, 29 of them international.
"I am very happy to be fulfilling a dream for which I have always worked and fought. I have always had my feet on the floor and my eyes on the sky, bringing my sand grain, "Mina said at the press conference. The Colombian defense has also explained that his usual ritual in the new stadiums is due to "thank all those who have done for me and respect." I will not do it in all the stages, only in my."