Barca: Messi fears his close friend will leave for Liverpool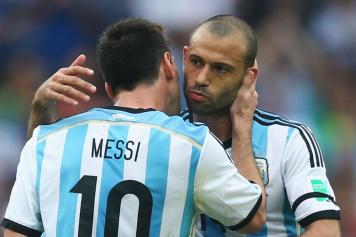 10 November at 13:00
Lionel Messi appears fearful that his friend and teammate Javier Mascherano will be on his way to Anfield. The legendary Barcelona defensive wizard has seen his role with the Blaugrana diminish, and expects to leave at the end of the current season.
While Mascherano supposedly wants to move to MLS,
Dario Gol
is reporting that he's received offers from Paris Saint-Germain, Juventus, and, now, Liverpool. A return to his former club could benefit both parties as Jurgen Klopp's side is in dire need of defensive help.
According to the same report, Messi has resigned himself to the fate that his good friend will leave the club. Additionally, the report claims he only has three close friends: Mascherano, Luis Suarez, and Gerard Pique. It remains to be seen how the captain will react if, and/or, when one of them leaves.
One thing is for certain, however, a departure from Nou Camp will become a reality for Mascherano.