Barca preparing to snatch up their top defensive target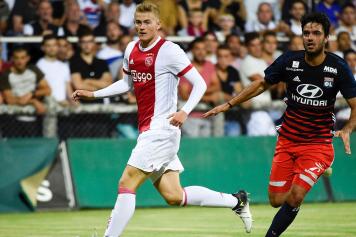 07 December at 14:45
With news that Ajax Amsterdam has signed the captain of The Netherlands' U-19 national team, all signs are pointing towards an imminent exit of prized centerback Mattijs de Ligt.
Earlier today, Ajax confirmed that they signed Perr Schurrs
, a 17-year-old centerback, who is currently captaining his second-division Dutch team despite his age. As a result, it's easy to extrapolate that the famed Dutch club is preparing for life without de Ligt.
Rumors of his departure are nothing new. His poise, both on and off the ball, have drawn rave reviews and attention from the top clubs in the world. Premier League and German clubs have come calling. However, it's becoming ever clearer that he'll trade his red and white shirt for a red and blue one soon.
Barcelona is favored to land the 18-year-old, and a transaction may happen even sooner than people anticipate. With Samuel Umtiti injured for two months, and Javier Mascherano on his way out, speculation has turned to an immediate arrival of de Ligt next month.
While it's difficult to imagine the Dutch giants selling their brightest young player in the middle of the season, Barcelona is desperate to add some depth and youth to their first team as their schedule becomes more condensed in the lead up to the World Cup.