Barca target 'a prisoner at PSG', wants to force move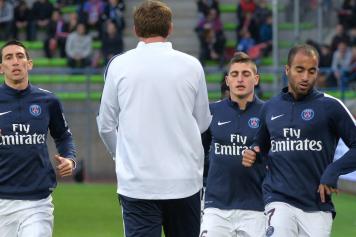 07 July at 18:21
Marco Verratti doesn't want to stay at PSG, and may make a final attempt to leave the Ligue 1 giants,
according to the latest reports.
L'Equipe write that the 24-year-old wants out, something agent Donato Di Campli confirmed to PSG themselves.
Team-mate Salvatore Sirigu hinted that the Barcelona, Juventus and Manchester United target was being kept against his will.
"You could say that he's PSG's prisoner a little," Sirigu told the media yesterday. "I think that a player gives his best when he's fully motivated.
"If, and I mean if, Marco wants to leave because he's not motivated or because he has a reason to leave, the club should take his demand into consideration".
The PSG star has been repeatedly linked to Barcelona, but has also said that he considers Bayern Coach Carlo Ancelotti to be "a father".
He was found recently in an Ibiza club, where Lionel Messi was reported to have been present, and to have discussed Verratti's future at the club with him.