Barca target: I never asked to leave PSG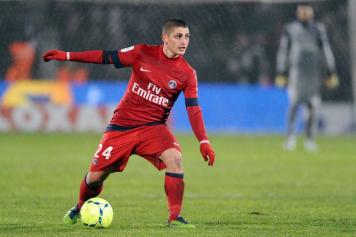 21 October at 12:40
Marco Verratti has
denied asking PSG to leave this summer
, and sounds excited about his future with the Ligue 1 leaders.
Reports indicated that the Italian international was willing to leave the Parisian side, and was alleged to have even met with Lionel Messi in order to discuss a move to Barcelona.
"It's not true that I asked the club to leave. When the new director of sport Henrique arrived, I came back from vacation to understand how things were really going," he told L'Equipe.
The former Pescara man has also been targeted by Juventus, Bayern Munich and a host of Premier League clubs. His camp had been complaining about the Ligue 1 stalwarts' supposed lack of ambition, but this seems to have disappeared when Neymar joined.
"To be honest, I am ambitions and for the first time since I got here, I asked myself whether I should remain," Verratti continued.
"Then they reassured me on the project and their ambitions. Winning something with PSG will always be different to elsewhere and I am very happy here.
"It's true, we had complicated moments last season, as we were expected to win every tournament, but had to deal with opponents that were more of a 'team' than we were."
The only thing that ultimately came out of that summer was the sacking of Donato Di Campli, his agent, who some believe had the blame pinned on him over the Barcelona rumours.
Verratti justified his decision to sign him, as well as to bring in Mino Raiola, his replacement.
"I didn't expect the summer to be like that, as many things happened that I did not like, above all the behaviour of people close to me who thought only of themselves and not of what was best for me.
"It was tough, because Di Campli was like a father for me. I hope, over time, we can rebuild a normal rapport.
"I already knew Raiola, as he was (former PSG teammate) Ibrahimovic's agent."