Barcelona, Piqué: 'I can quit playing for Spain'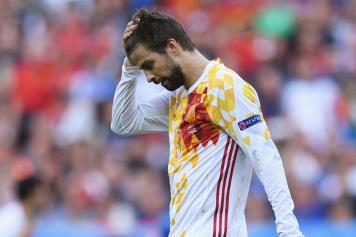 02 October at 14:15
Gerard Pique is willing to step down from international duty
after last night's Catalonia vote.
The Spanish defender came out in favour of the independence vote, which was marred by police raids and widespread violence against voters, with up to 800 injured.
Pique was very emotional last night after he heard of what happened, and was in tears after Barcelona beat Las Palmas in front of an empty Nou Camp last night.
"If any directors or if the Spanish FA believe that I could be a problem or annoy the national team then I am willing to step aside."
Pique intends to retire from international duty after next year's World Cup anyway.
"I am proud of the Catalan people," he then said more generally.
"This has been my worst experience."
Pique has won a World Cup and a European Championship with Spain, and six Liga titles with Barcelona, as well as three Champions Leagues.