Barcelona only began Messi negotiations in late May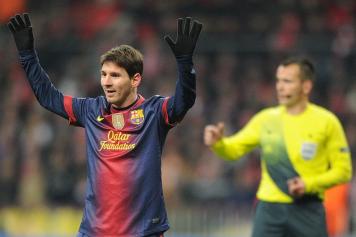 07 July at 17:30
Barcelona are very excited about keeping Lionel Messi.
President Josep Maria Bartomeu confirmed that the club is 'optimistic' about the Argentine's decision to stay, which will keep him at the Nou Camp until 2020, with an option for another year to be tacked on.
"This news was expected," Bartomeu told the Spanish media (via Le10Sport), "Messi heralded the arrival of a new era when Pep Guardiola have him the keys to the team in 2008. This is set to continue."
Messi is set to become the world's highest-paid player, earning €30 million a year, €35m with bonuses. He will also have a €300m release clause.
"It's a great success for us, Messi is at the pinnacle of world football, and he's set to stay with us for another four years. This makes up optimistic. It was a long process.
Bartomeu also revealed that the two sides didn't actually begin to negotiate until after the season had ended.
"We hadn't discussed the [contract] situation during the season, and he finally signed with us at the end of June".