Barcelona, Piqué: "Here is why I wrote that Neymar would stay on with us..."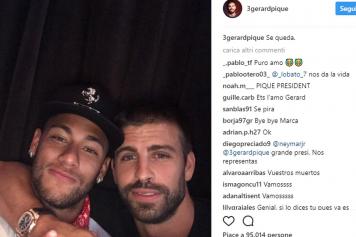 12 August at 20:52
" Now that he moved to PSG I can explain everything. At Lionel Messi's wedding (June 30th), Neymar arrived with the idea that he would leave Barcelona. When I posted that picture, I already knew that he was going to be leaving us.
It was a last minute attempt
....".
This is what Gerard Piqué had to say to the press
(via EuroSport)
ahead of their Supercup game against Real Madrid. Piqué then added : "Neymar got mad at me but then things cooled off within a few hours or so. We can't judge him, he took a brave decision. He always played well for us and with his sale, Barcelona made a ton of money. We will maintain our standards... . It isn't easy for Barcelona to sign new players since everyone knows that we got 222 million euros from Neymar's sale. The management have to evaluate the situation well. Real Madrid? It is always special to play against Real Madrid but it won't be easy. They are very dangerous on the counter-attack... ".