Barcelona pounce on the 'next Neymar'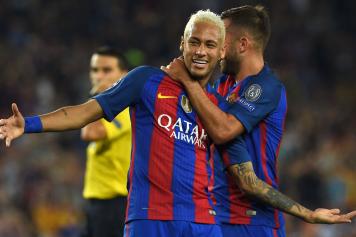 20 March at 14:35
Barcelona are already considering the future of their star Neymar. The Nou Camp hierarchy, of course, do not want to sell the Brazilian star who would be welcomed with open arms in Manchester and Paris.
According to AS.com
the
blaugrana
have already identified the potential heir of Neymar.
His name is
Vinicius Junior and he's contracted with Flamengo.
The 16-year-old, however,
won't be able to leave his club until he's 18 and the Brazilian side have slapped € 30 million price-tag
on the talented attacking midfielder.
Vinicius Junior is said to be already in contact with his compatriot Neymar.
AS.com
claims
the Barcelona star has already sent his potential heir some texts and that Barcelona scouts are being monitoring the promising 16-year-old for very long time
.
The representatives of the Nou Camp hierarchy in Brazil,
André Cury
played a key role in signing Neymar back in the days, stealing him from under the noses of Real Madrid and he will also be in charge of negotiations to take Neymar's heir at the Nou Camp.