Barcelona star: Premier League excites me, I could play there one day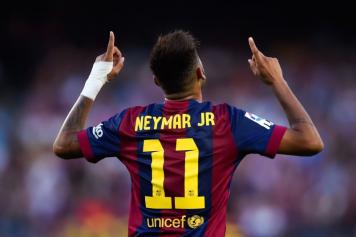 20 March at 16:40
Barcelona star Neymar has revealed that the Premier League 'amazes' him, and claims that he likes a number of English teams.
"The Premier League is a championship that amazes me," the Brazilian
told the Sun.
"I like the playing style and the teams. And who knows, someday, I would like to play at it, yes.
"I admire Manchester United, Chelsea, Arsenal, Liverpool — these are the teams that are always there fighting."
The 25-year-old has 12 goals between La Liga and the Champions League, as well as 18 assists.
He was linked to a move to PSG last summer,
only to refuse a huge £42 million contract last summer.
Neymar was also full of praise for a couple of Coaches he knows a thing or to about:...
"And then you have high-level coaches like
Mourinho
and
Guardiola
. These are coaches with whom any player would like to work."
"In the Premier League you never know who is going to win or who will be champions, it is always a surprise. Leicester are very good.

"They had a great season last year, they were Prem champions and therefore we need to respect them if we draw them in the Champions League."
@EdoDalmonte