Barcelona to offer player in exchange for €45.5m Arsenal star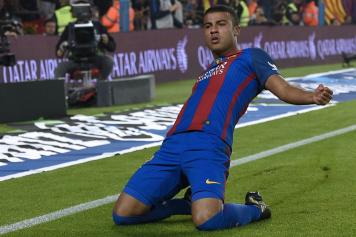 19 June at 17:10
Barcelona have a plan to snag Hector Bellerin from Arsenal,
according to reports in Spain.
The Blaugrana are set to offer Rafinha in order to entice Arsenal, to tempt them to sell the Spanish international.
Bellerin has been linked to his former club all summer, but news that Arsene Wenger was staying seems to have stymied speculation a little.
Recent reports indicated that the Catalans wanted to encourage Bellerin to lobby for a move,
or even rebel against his club.
Rafinha is reported to be enthusiastic about the move, seeing as it would allow him to play more regularly and hopefully guarantee a spot on the plane for Russia 2018.
Arsenal are also very interested in Rafinha, and need a player like him to make the middle of the park more creative, something which was sincerely lacking this season at the Emirates.
The Mirror
recently wrote that the Blaugrana were preparing a €45.5m (£40m) offer to snag Bellerin.