Barcelona: we're prepared to sign Coutinho in January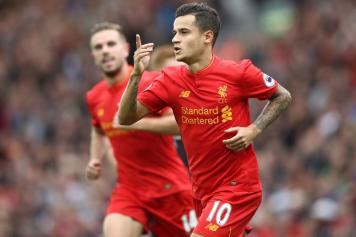 12 October at 13:15
Barcelona are ready to sign Philippe Coutinho this summer, chief executive Oscar Grau says.
"We are prepared to sign Coutinho or any other player we want in January," Grau told a press conference.
The Brazilian international was reported to have handed in a transfer request last summer, with the Blaugrana reported to have made offers reaching the
€
150 million mark.
"Our aim is to have the most competitive squad possible and yes, we will look into signing players, even if no players leave the club – we want to give the fans the best team we possibly can.
"We will remain sustainable, we must continue to seek ways and opportunities to generate income and not to have any losses.
Grau went on to talk about the windfall generated by the sale of Neymar, who left for PSG for
€
222 million. Coutinho was seen as the idea replacement, having scored 13 goals and provided seven assists in summer.
"We are presenting figures now which are higher than any other club in the world, even compared to NBA or the NFL, they cannot match these numbers.
"We are on target for with our financial goals and the budget is based on the trajectory of us continuing in La Liga. My belief is Barcelona and La Liga must be hand in hand."