Bayern manager backtracks, may remain next season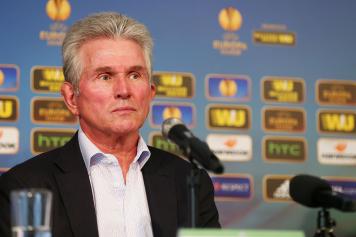 10 March at 14:15
Jupp Heynckes has again left his Bayern Munich future open to interpretation, saying he has not definitely committed to leaving the club in the summer.
Bayern appointed Heynckes, 72, as interim coach in October after Carlo Ancelotti's dismissal in the aftermath of a 3-0 defeat away to Paris Saint-Germain in the group stage of the Champions League.
In an interview with Sport Bild on Wednesday, Heynckes appeared to reiterate his intention to leave the Bundesliga champions at the end of the season, while talking up former Borussia Dortmund coach Thomas Tuchel as his successor.
However, speaking at a news conference ahead of the league leaders' home game against relegation-threatened Hamburg, Heynckes backtracked from his comments in midweek.
"I can only say nothing at all is decided yet, because, until, now I have definitely never said I will retire in the summer," he said.
Heynckes asked the assembled media if they had heard him say he is retiring before stressing that he had never told his team he will retire at the end of the season, either. "I have only ever referred to our agreement from last year which is still valid," he said.
"Regarding the Sport Bild interview, I only stressed my appreciation for my colleague Thomas Tuchel, who I know very well. But if you study the context of the whole interview, I also praised many other coaching colleagues as well."