Bayern Munich: reports of Ronaldo interest are 'a hoax'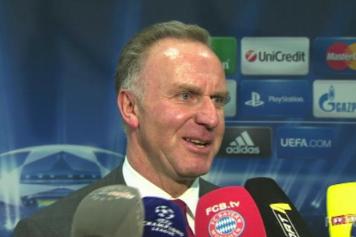 19 June at 15:25
Bayern Munich are adamant that they're not interested in signing Cristiano Ronaldo, describing the reports as the "hoax of the day".
The news emerged from the Gazzetta dello Sport at the weekend, and elicited a typically bitter response for the Bundesliga club, whose higher-ups aren't known for their diplomatic touch.
A club statement read: "Rumours about FC Bayern swirl around the world daily via printed press, social media and whispers. Digital technology means news is spread with great speed, but sometimes stories come out that are simply not true."
Ronaldo isn't happy about the Spanish authorities' intention to prosecute him for allegedly evading
€
12 million's worth in taxes.
The Portuguese star has since been linked to Manchester United, as he bemoaned his fate to Coach Zidane, claiming he's being treated "like a criminal".
Seeing as the German word for hoax ('ente') is also a synonym for 'duck', Germany will have "Franz the Bayern duck" present the award.
CEO Karl-Heinz Rummenigge was just as vicious, claiming that "we're used to being the subject of intense transfer speculation during transfer windows.
"Normally we don't comment on rumours, but in this case, we would like to make our position on Cristiano Ronaldo absolutely clear: This rumour is completely unfounded and must be consigned to the realms of fantasy."