Bayern Munich star: the press overrated PSG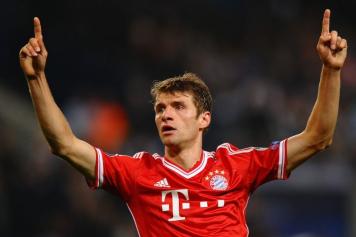 06 December at 16:30
Thomas Muller has taken a pretty arrogant shot at PSG, arguing that the French side was over-estimated and "gassed up" by the press.
Bayern dominated at the Allianz in the first half in yesterday's 3-1 win in Champions League Group B, taking a commanding two-nil lead before PSG got back in the game after the break.
The Ligue 1 side still finished first in the group.
'I think we won 3-1," the German international told reporters after the game.
"Of course, PSG had one or two good chances but you did not feel that another team was superior to us here," he said. "We are still Bayern."
"When it was 3-0 in Paris, we had a corner ratio of 18-1 for us and it is pretended that PSG had a potion or something.
"Of course, they have very good offensive players but you should be off the gas when it comes to talking up other teams."
Muller has struggled for form of late, something which may explain some of his outbursts.
The 28-year-old scored 20 goals in his last Bundesliga season under Pep Guardiola, before finding himself being benched by Carlo Ancelotti.
The Bayern academy product even had a go at the referee from the home game (Spain's Mateo), saying that "the referee also reads your articles I think, because I felt I had an away game in Paris as to how much the referee protected the PSG players," he added.
"So, we are still Bayern."