Bayern Munich vs. Real Madrid 1-1: Tops and Flops of the first half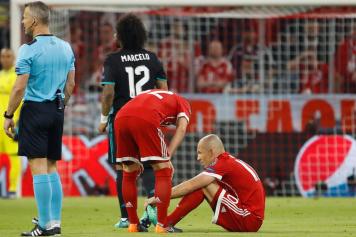 25 April at 21:35
The first half of Bayern Munich-Real Madrid offered a lot of chances, mostly in favour of the home side. However, the teams headed into the half-time break at 1-1, as Marcelo equalised late in the first 45. Here are the tops and flops of the first half.
Tops

Kimmich: A brilliant goal from the youngster, as he completely fooled Keylor Navas in goal. Really proved that he's a great asset for Bayern Munchen, both in the attacking and defensive phase.

Marcelo: None of the Real Madrid player stood out in the first half, however, their left-back did really well to score the equaliser, pouncing on the volley from distance. Considering Madrid barely had any chances in the first half, they should consider themselves lucky.

Flops

Thiago: Couldn't settle in the first half, misplacing several passes in the opening stages of the game. Really needs to do better in the second half.

Navas: Although he did well on a few occasions to keep Bayern from scoring, he should arguably had done better when Kimmich came bursting down the right-hand side. Went to early, assuming he was going to cross it. However, Kimmich won that battle.