Bayern players trained behind Carlo Ancelotti's back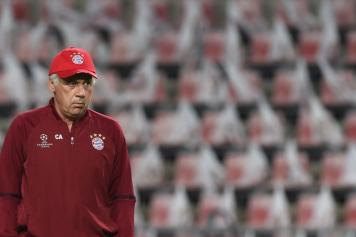 03 October at 13:05
Bayern Munich's players didn't respect Carlo Ancelotti a lot,
according to the latest reports from Germany.
The former Milan, Chelsea, Real Madrid and PSG Coach was sacked after only seven Bundesliga games this season, with the Bavarian giants lingering in second place, five points short of Borussia Dortmund.
According to Kicker, many of his veterans were unhappy at how training was being conducted, with star winger Arjen Robben claiming that his son was probably getting better drills with the Bayern youth team.
A number of veterans who were opposed to the Italian (several of
Manuel Neuer, Thomas Muller, Jerome Boateng, Franck Ribery, Robben and Mats Hummels) went over Ancelotti's head to discuss training methods with CEO Karl-Heinz Rummenigge, something the Italian was made aware of. Ancelotti stuck to his guns.
Not content with doing that, some of the players even held private training sessions, which they believed were the only way to remain competitive.
Though they won the Bundesliga last season at a canter, the Bavarians were uncompetitive in the Champions League, going out early in the knockouts to Real Madrid.