Agent reveals: 'Man Utd wanted Thomas Muller at all costs'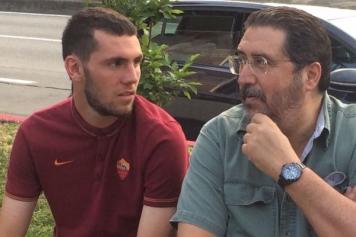 30 September at 19:08
Giovanni Branchini, 30 years after you're always one of the most important players agent in the world football scene
.
So many stories to tell... Let's begin from the 40 millions deal Vidal.
"Bayern wanted Vidal so long. Bayer Leverkusen choosed to sell him to Juventus, but Bayern continued to monitor the chilean. Than the player's will was decisive. Anyway, the first step for Bayern was Douglas Costa: as soon as we've closed for the Brazilian, no problem for Vidal from Juve"
What can you say about Douglas Costa: he is a top level for european football. Many clubs wanted him, is it true?
"Douglas Costa, big business for Bayern: together with my son Giacomo we have been following him in Ukraine for such a long time… And when the club decided to move on, they've found their way smoothed. Their choise was clear and other clubs were out of time"
Coman is gone to Bayern: Juve fans don't agree at all. What about this deal?
"Years ago Juventus took away Coman while Bayern was nearly on him. It all comes from far away. But in the summer the player was doubtful about his role in Juventus tactics, he felt he's a winger. The two clubs were in excellent relations, so Juventus changed their plan and Coman became a Bayern player"
Why Juventus couldn't take Goetze and Draxler?
"Players choose. Goetze has excellent wage and he plays for a top team, who knows if he really wants to leave? Bayern won't never tell him that"
Mandzukic-Juventus: it wasn't easy for bianconeri to beat the competition…
"Juventus decided he was the best choise for several motivations. Mandzukic was convinced about the project. In Madrid there were unespected situations"
Sirigu on the bench at Psg: your opinion?
"It's a strange situation. We didn't expect. Psg choosed Trapp, Sirigu keep on training, he is ready to fight for the role of goalkeeper".
A secret unveiled? Wich was the mission impossible of the last market?
"Manchester United wanted Thomas Muller at all costs. I've spent days trying to explain Bayern Munic would never let him leave. so in the end they changed their mind"
How much the transfers market is changing?
"A lot, english football is growing up very fast and for italian football, for example, it could be more and more complicated to buy not only the biggest stars like Neymar but the second or third level too. At this moment Sunderland or Aston Villa can spend as well as Juventus or Milan do, because of the tv rights".