Belotti's rapid rise: from being pictured with Balotelli, to replacing him at Milan | by Emanuele Tramacere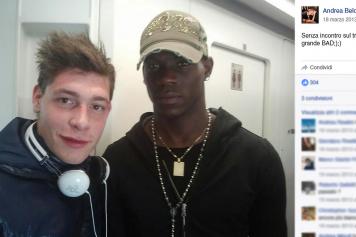 08 November at 13:10
Nathaniel Hawthorne once remarked that "
Families are always rising and falling in America."
The same applies for Serie A, if the picture above proves anything.
It's been more than three years since Andrea Belotti and Mario Balotelli met… casually, on a train, At the time, Il Gallo was just another third division player, a striker for Albinoleffe. The two took a picture together at Belotti's behest, his passion for Milan playing a big role.
Balotelli had coincidentally just scored a brace against Palermo, who were about to buy Belotti.
Things have drastically changed from then: Balotelli has only found form recently with Nice, having flopped both at Liverpool and AC Milan.
Conversely, the Torino star is Italy's newest addition in attack, and is wanted by a number of big clubs.
This includes AC Milan, who are set to revolutionize their attack, something we've written about of late. With Carlos Bacca not moving around enough, the idea is to ditch the Colombian and have someone more dynamic take over in attack. What about Belotti, who runs around like he's got red ants in his shoes?
It would be quite the coronation for the childhood Milan fan… who has risen above his idol in the space of only 3 years. Talk about aiming high!

@TramacEma, adapted by @EdoDalmonte