Biagio ardent that he's not going to do Buffon 'any favors'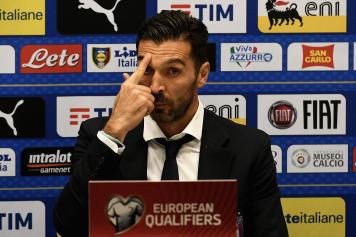 11 March at 09:00
Interim Italian national team manager Gigi Di Biagio admits he doesn't know how long he'll be in charge of the Azzurri.
He did however reveal some of the strategy he'll be employing while behind its bench.
He says he will not do Gianluigi Buffon any favors despite the goalkeeper's unparalleled resume. "I'm not doing any favors to Buffon," he said in the exclusive interview with RAI. "Buffon serves me on the pitch, because he's a great goalkeeper. Then if he does not play, I will need him for what he represents off the field. The players are not all the same. The coach who says the players are all the same does not tell the truth. And Buffon is not one like the others."
As for Marco Verratti, Biagio has new ideas for the central midfielder. "He is one of the strongest in Italian football. We always expect something more from him and this is why he is always judged very seriously. He is a heritage of our football and must be protected. We must support and help him. I hope that from March I will be able to make it play well. Even differently? We'll see."
As for calling up Mario Balotelli, Biagio remained coy, answering only "Lets see" when asked.