Boateng: 'Only one Ronaldo; Sassuolo project goes beyond survival'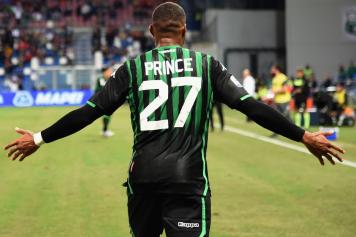 07 September at 11:00
Kevin Prince Boateng returned to Serie A this season after moving to Sassuolo during the summer. Speaking in a lengthy interview with
La Gazzetta dello Sport
, Boateng revealed more about his move, his past and his future:
"With the experience you understand what your body needs exactly At 31 I feel great and I can help the team there too, even if this means running more. The family is important. But I'm calm with myself, I do not put as much pressure as before. When I lose I get angry again, but today, unlike the past, when I was not talking to anyone for three days, I can understand the how and why of the defeat."
"I love music since I was little. It helps me a lot in difficult times. For years I wanted to make a record and this summer I had some 'time ... The video points a lot on this thing of the king, but for me it was important to tell how and where I grew up, the sacrifices made that now make me feel the king, the king!"
"
There is only one
[CR7] ...
I know I was so wrong when I was young because I was not serious and I did not have the right people around, unlike today. Anyway, yes, even now, looking back, I feel I could have reached a lot higher, despite my good career."
"The Sassuolo project goes far beyond salvation, given the first three games, that's our target, we aim high, where no one can see us ... Juventus is already special, if you play first place it's the best: to score points you have to be perfect and hope that they are not, but we are a team of young people who have the chance to face the strongest players in the world in one of the most important stadiums in Europe: what more do you want?"
For more news, views and features,
visit our homepage.