Bologna-Inter 1-1, the ratings: Joao Mario and Candreva flop, Verdi top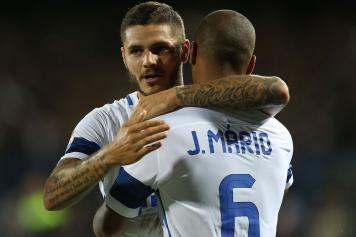 19 September at 23:25
BOLOGNA
Mirante 6: He didn't have much to do but when he did, he was ready.
Mbaye 6: He had a good overall game but he gave up the penalty kick which allowed Inter to tie the game.
Helander 7: Solid game by Helander as he was nearly perfect.
Gonzalez 6: Decent overall game.
Masina 6: He did have trouble at times but he was pretty good on the night.
Donsah 6.5: He ran a lot tonight as he was crucial in Donadoni's schemes.
Pulgar 6: Donadoni played him again and he did not commit any errors as he is doing well.
Poli 6: Started the game of well but then died off as the game progressed. (72' Taider 6: he made a lot of runs).
Verdi 7.5:
He scored a great goal as he allowed Bologna to earn a point (which should've been more).
Petkovic 6.5: With Destro on the bench, Petkovic replaced him as he proved his worth tonight against Inter.('87' Okwonkwo: no vote)
Di Francesco 6.5: He showed a lot of quality tonight as he attacked Inter at will. He got tired as the game went on as was then replaced. (74' Palacio 6: He still has to regain his form but he will be an added piece to this Bologna side).
Coach Donadoni 6.5: After a few losses, Donadoni's team responded well. He picked the right formation and his subs were spot on.
INTER
​Handanovic 5,5: Not a bad game by him as he came up with a few saves.
D'Ambrosio 5: He struggled a lot against Verdi's runs...
Skriniar 5,5: Decent game by Skriniar but he did suffer a bit when Petkovic attacked him...
Miranda 6: He was very calm tonight as he held his own.
Nagatomo 5,5: He ran a lot and did not suffer much but at the same time, he did not bring much offensively speaking...
Vecino 5,5: He did okay but his positionning wasn't always spot on...
Borja Valero 5,5: He ran a lot but also missed a few too many passes (86' Gagliardini: no vote)
Candreva 4.5: Many missed crosses and missed passes for him... (81' Brozovic: no vote)
Joao Mario 4: Difficult game by Joao Mario as he struggled a lot. Very imprecise ... (50' Eder 6,5: He helped Icardi and Perisic upfront as he was the one who won a pk for Inter)
Perisic 5: He tried some things but he had a night to forget.
Icardi 6: He did not have a great showing (similar to Perisic) but he did convert the penalty kick as he helped Inter earn a point.
Spalletti 5,5: His team suffered a lot in the first half but he changed things as we saw a better Inter in the second half.
Jean-Luca Mascaro (@CalcioNews89)