Bonucci admits interest of Man Utd and PSG and reveals why he opted for Juve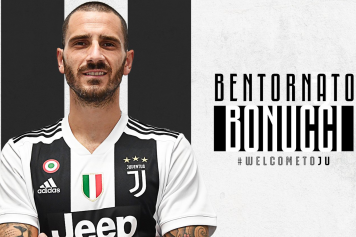 10 August at 15:45
New Juventus signing Leonardo Bonucci has confirmed the interest of Paris Saint-Germain and Manchester United and has revealed that he took up the decision of rejoining Juventus from Milan.
Bonucci was talking to the press during his first ever press conference on rejoining Juventus from the rossoneri. Bonucci talked about offers and interest from other clubs and said that it was his decision to rejoin the bianconeri.
He said: "My agent, fortunately for him, has players who are in Juventus and there was a chat with the director and this possibility was born.
"Milan looked around to try to send me abroad. But I had always wanted to come back.
"Anger? It was because of series of episodes.The discussion with the coach was one of these and then I did not feel good about myself in order to make and be at Juventus. Fortunately today we are all here again. "
For more transfer news and updates, click here
Kaustubh Pandey (@Kaus_Pandey17)