Bonucci: 'Disappointed by Juve fans, Guardiola's offer tempted me'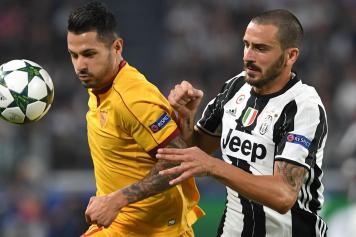 16 September at 09:36
Juventus centre-back Leonardo Bonucci has released an interview with
Sky Italia
and
Mediaset Premium
talking about the last Champions League clash against Sevilla and the incoming Serie A one against Inter at the San Siro.
"Against Sevilla,
I was left disappointed by the behaviour of our fans. The team must be supported every time. On the contrary, I've heard people moaning after just 20 minutes.
We played a good game but we were unlucky because we couldn't finalize what we created."
"I've always dreamt to win with Juventus and I want to improve every day to help Juventus to make history.
Pjanic covers many areas in midfield
and it's easier for me to find him with passes."
"Inter will be hardened on Sunday. They are building their team and they've changed a lot.
They'd do everything to prove that they are at Juventus' level.
We want to become the only Italian to have ever won six successive Serie A titles."
During the interview with
Mediaset Premium
, he added: "Saying that the offer coming from England did not tempt me last summer
would be a lie, especially considering the manager who wanted me
. Juventus, however, is my home and I am happy to have stayed here."