Borgonovo's widow will attend Germany vs Italy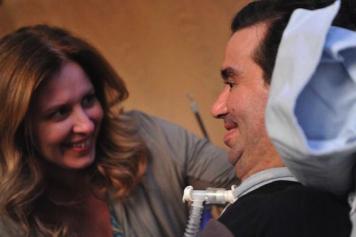 29 March at 17:45
Chantal Borgonovo
, the widow of
Stefano Borgonovo
, a former striker for the Italian National Football Team, who passed away in 2013 due to ALS a degenerative neurological disease, returns to Munich for tonigth's friendly betwen Germany and Italy. Chantal has been invited by the FIGC, the Italian Football Association.
Borgonovo indeed scored the most important goal of his career in Munich. In 1990, during the second leg of the semi-final match between
Bayern Munich
and
AC Milan
the striker drew in the overtine. His away goal pushed Milan to the final which the Sacchi-crew won against Benefica 1:0.
"It is a pleasure to watch tonight's game in Munich and I thank the FIGC and its president for inviting me," said Chantal Borgonovo. "It is a strange feeling to be in Munich, but it's good because it makes me feel closer to Stefano."
A few days ago a square in front of the Sinigaglia Stadium in Como was officially named after Borgovano. In Florence on April 9 the city will dedicate a street opposite the"Gino Bozzi" stadium to Borgonovo. The ceremony will begin at 15.30.
Needless to say that Chantal Borgonovo will attend the special event to raise awareness of ALS and celebrate her husband's life and legacy to football.