Borriello returns to Milan, bye bye Ibra?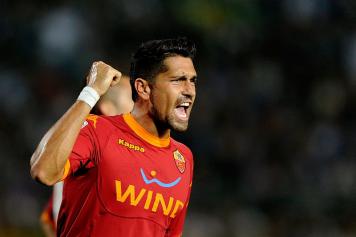 06 May at 11:00
With one of his goals Roma won at S.Siro.
Borriello and Milan: tempted to return.
The player is on loan, but an agreement between Roma and Milan is forcing the Giallorossi to acquire him for 10 million euro. The new owners are willing to do it, perhaps to use him as a swap in other negotiations. Juventus are waiting, but if the player would ask to return to Milan...
(Gazzetta dello Sport)
Roma-Milan tomorrow.
Ibrahimovic returns. Is it his last time?
The Swedish player could leave in June as he doesn't feel like a leader anymore.
The Champions League failure and the critics have disturbed him. His teammates are not on his side: "We win even without him...".
AC Milan are following a precise market strategy: more strenght and height for the Champions League next season: they need more muscles.
Behind Ganso there will be a strong midfield with Boateng, Van Bommel and, they hope, Essien. Mexes in the defense.
(Tuttosport)