BREAKING: AC MILAN SACK MIHAJLOVIC, BROCCHI TO TAKE FIRST TRAINING SESSION TOMORROW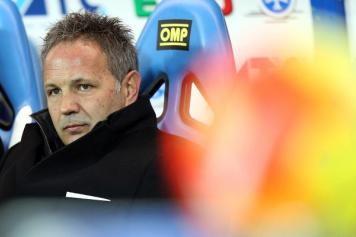 11 April at 23:38
AC Milan have sacked Sinisa Mihajlovic. The unexpected news came after
Silvio Berlusconi's dinner with AC Milan's Primavera team Cristian Brocchi
who's set to replace the Serbian tactician on the
Rossoneri
's bench.
Adriano Galliani had been trying to convince
Berlusconi to keep Mihajlovic until the end of the season
but the club's owner seemed inflexible, so much so Galliani is rumoured to
have already called the former Sampdoria boss to announce Berlusconi's decision to sack him.
The meeting between Berlusconi and Brocchi ended at 11.25pm (Italy time) and was also attended by
Brocchi's vice-manager Alessandro Lazzarini
, his assistant
Simone Baldo
and AC Milan's CEO
Adriano Galliani.
Brocchi, a former AC Milan and Lazio player will take his first training session tomorrow, when the club is expected to announce their decision through their official website.
AC Milan sit
6th in Serie A with 49 points
. The
Rossoneri
could only rack up
two points from their last five league games
and even if Berlusconi has never been an admirer of the Serbian gaffer, everyone thought he would have gave Mihajlovic a chance to play the Coppa Italia final before taking a decision on his future.
Lorenzo Bettoni @lorebetto