Breaking: Milan made contact with Juventus Coach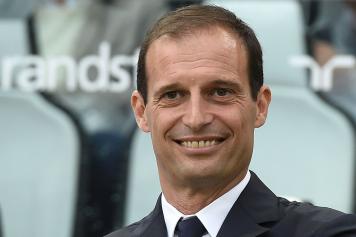 17 October at 13:06
Milan in shock swoop for ailing Juventus Coach
AC Milan are interested in signing Max Allegri,
according to La Repubblica.
The former Rossoneri Coach hasn't started the season brilliantly, his Juventus looking older, slower and desperately uncertain at the back. They are five points behind leaders Napoli after only eight games, and really look to be missing Leonardo Bonucci.
The Italian paper claims that Milan directors Massimiliano Mirabelli and Marco Fassone want to effect a change at the top, and that tentative feelers have been sent to Allegri.
Milan have lost half of their eight games, and recently went down in a 3-2 loss to rivals Inter.
Antonio Conte and Carlo Ancelotti have already been linked to the Rossoneri, as current Coach Vincenzo Montella is under heavy fire.
It would be odd, however, to see the very-successful Allegri to accept a step down. Despite the shaky start, he doesn't seem to be in the firing line. And it's hard to see him be reunited with Leonardo Bonucci, with whom he had a poor relationship.