Breaking News: Real Madrid sign €45m Brazilian starlet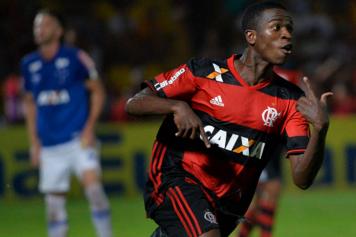 19 May at 20:10
"Vinicius Junior for Real Madrid." This is the announcement of the upcoming transfer of the 16-year-old Brazilian starlet. Former Flamengo president Kleber Leite who spoke to Fox Brazil, added that the transfer to Spain will not take place next year, but in January 2019 or, most likely, in the following summer.
As reported via Italian Press Agency ANSA
"To beat the competition of other European top clubs, Real will pay the rescission clause of 45 million EUR" for the player who was born in July 2000, and who has attracted attention from everyone in Brazil (and Europe) when in March with the Under 17 team, he won the South American Championship in Chile (and where he was elected MVP of the tournament). Also noteworthy is that he has been promoted to the first Flamengo team just one week ago, and already made his debut at the Maracana last Sunday by playing in the match between Flamengo and Atletico Mineiro.