Brocchi: "No radical changes, I'm not crazy. A little time? That will be enough. Balotelli..."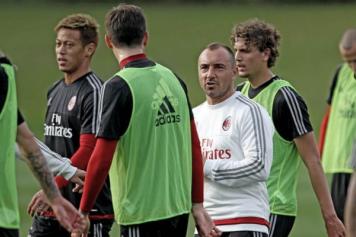 16 April at 13:12
New Milan coach Christian Brocchi has given his press conference ahead of Sunday night's match against Sampdoria.

He started by looking forward to the challenge in Genoa, stating that; "We have'nt spoken about specific points yet, we will have more time to discuss this when we arrive in Genoa". On his first few days on the training field with the first-team he stated that; "With change there is always a shock and for the first couple of days the players looked sad as they had an attachment with Mihajlovic just like me. Then the players started to listen to my ideas as this made me very happy".

He was asked about his reported 4-3-1-2 formation, with Bonaventura playing in the number 10 position. Brocchi responded; "He can play in this role, he has the characteristics to do this". On the possibility of a starting berth for Locatelli he explained that; "In the past few days we have tried several formations. It's one way to look at Milan as a supporter and another as a coach. I've seen a team this week that has many potential starters".

Asked whether the speculation about his own future is unsettling the players he responded; "In the dressing-room we don't discuss these issues. Other people within the club discuss the future of the club". Then it was on to Mario Balotelli, Brocchi once more: "I can't believe he interprets the game like Kucka and vice-versa, individuals have their own characteristics but what is most important is that they bring these to the team. I've seen an eager Mario and he's promised to give me everything in the final few weeks".

Finally, what does Brocchi want to see tomorrow? "I would like to see a 5% improvement but this week in training; the players have shown me more. We know we have time, we must make the most of it".



Steve Mitchell @barafundler