Bryanair takes flight for Italy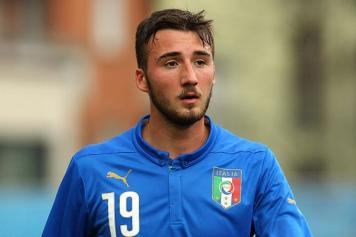 07 October at 13:00
With Alitalia in constant financial turmoil, Italy may turn to a new upstart airline to provide stability for the national team. Bryan Cristante has seen a relaunch of his career under Atalanta manager Gian Piero Gasperini, culminating with his debut for the Italian national team last night. Now, it appears Bryanair is set to take flight on the international stage.
At one time, Cristante was considered the future of AC Milan when he was just a teenager. However, injuries and failed promises led to his exodus from the San Siro in 2014. After being sold to Benfica, the midfielder embarked on a series of loans to lower-tier Italian clubs Palermo and Pescara.
The once-promising player, who was a mainstay on Italian youth teams, failed to garner notice under Antonio Conte and, now, Gianpiero Ventura of the Italian national team. He rebuffed repeated offers to join the Canadian national team, in the fleeting hope he could one day represent his home country.
Now, with a loan to surprise success Atalanta, Cristante has announced himself on the national stage. In eight matches across all competitions, he has netted three times, and earned his first call up to the national team this week.
Last night, during Italy's devastating 1-1 home draw to Macedonia, Cristante made his senior team debut off the bench. The appearance was a culmination of hard work and persistence for the 22-year-old.
Matthew Klimberg