Buffon, 20 years after his Italy debut he is still decisive but his retirement is approaching...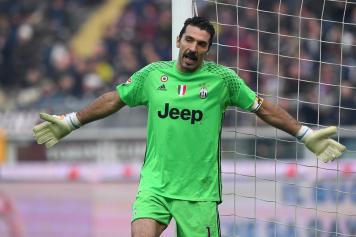 29 October at 22:18
This will seemingly be Gianluigi Buffon's last year as a professional footballer. He had said so at the start of this season and he kept saying so after last night's win in Milano. Even if he is going to be 40 years old soon, Buffon is still decisive. He saved Juve on a few occasions in Udine and he made a big time stop last night against Kalinic at the end of the first half.
GOOD-BYE - Here is what he had to say about his future after the Milan-Juve game: "Retirement? I will be retiring because I also have to follow what the management here at Juve want. They acquired new and younger keepers who might be better than me. Time goes by for everyone...".
​
LEAVING WITH DIGNITY - Buffon wants to leave the football on a high. He is one of the all time great keepers and characters in the world of football as everyone will miss him. His adventure will likely end in Russia (if Italy qualify for the World cup) as it will be from Russia to Russia for him. His goal will be to do as best as possible with Italy and with Juve as he would also surely like to win a UCL title ...
Jean-Luca Mascaro (@CalcioNews89)