Buffon on retirement: "I will meet with the President then make a final decision"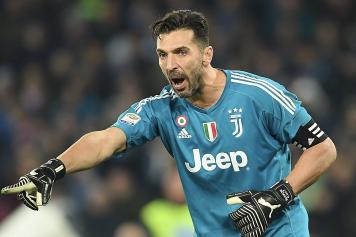 14 February at 15:20
Juventus and Italy legend Gianluigi Buffon has dropped more hints about what the future may hold for him come the end of the season.

The 40-year-old statesman, who was criticised in some quarters after last night's 2-2 draw in the Champions League against Spurs, In an interview with Maurizio Costanzo, to be broadcast on Canale 5 tomorrow evening, the great man was put under the microscope.

On the subject of his impending retirement, Buffon stated that; "I don't want to create false expectations. The truth is that I have to meet with the President before the end of the season.

"We will meet, take stock of the situation and then make a final decision."

Asked about Italy's failure to reach the World Cup Finals this summer, Buffon admitted that; "It's been very difficult to take. I wanted to finish my career at the World Cup as it would have been a fitting way to bow out of the game.

I do feel however, that now I'm 40 I have to take stock, take a step back and consider my options."

So, who does the great man think is best equipped to be his natural successor?
"At the moment Gianluigi Donnarumma is the name on everyone's lips and he deserves the accolades.
There are two or three other players, even younger than him, which I also believe have great potential."

When asked about the Calciopoli scandal, Buffon did not deflect the question when he declared; "I feel ashamed about it, because it compromised the one thing that should apply to everyone in sport and that's loyalty."

Finally, on fighting depression, Buffon explained that; "There are times in life when you have to make a transition; namely from being a boy to being a man where you have to deal with situations that can lead you into a black-hole.

The result of this can be depression. For someone like myself, who has an outgoing personality, it was very bad and it took me a while to realize how bad things were."