Buffon : "Bonucci? He misses his old friends..."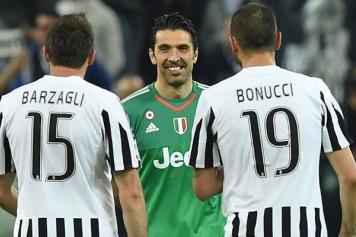 22 October at 21:20
Gigi Buffon spoke to
Premium Sport
after Juve's win in Udine, here is what he had to say: " The biggest positive of this game is that we had to fight hard to surpass a difficult moment. Even so, we know that we will have to improve. You won't win league titles by winning games 6-2. Juve players have to feel pressure, the pressure to win. We have to have a certain rage inside of us before and during each game. I have received a lot of shots? Well that's why I am there. Today, I really liked Higuain's spirit. He fought hard in a delicate moment for us. I told Allegri to show Gonzalo's performance to the squad this week at Vinovo. Italia? We will have to fight hard, that's why we are working hard....".
Buffon then added to
Sky Sport:
"Bonucci? I did not see his foul but the referee surely took his decision after he saw blood. National team? I have been lucky to work with Leo for all of these years. I know him very well and I know that he has a strong character. Leo might need to play with his old friends more often, this might do him some good. Against Albania, he was one of the best out there, I am sure we will see a solid Bonucci against Sweden...".
Jean-Luca Mascaro (@CalcioNews89)