Buffon can't say if he is the best goalkeeper of all time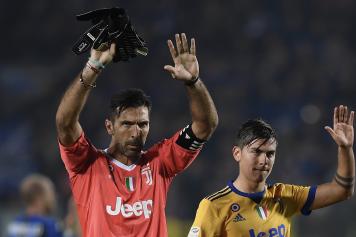 25 October at 15:20
Italy and Juventus veteran stopper Gianluigi Buffon has urged in an interview with FIFA the need to qualify for the World Cup for Italy's tradition and also told that he can't say if he is the greatest goalkeeper of all times or not.
The 39-year-old recently won the FIFA Best Goalkeeper of the Year award ahead of the likes of Manuel Neuer, Hugo Lloris and Chelsea's Thibaut Courtois. He told in an exclusive interview with FIFA that he is still more ambitious than ever and the need for his nation to qualify for the World Cup.
When asked about qualification for Russia 2018, Buffon said: "
Of course it is. It's an important target for myself and for Italian football. We must qualify for the next World Cup, for our football history and tradition. The play-off will be tough but we need to qualify."
He was also asked about the abilities of their play-off opponents Sweden. The stopper said: "Sweden is a difficult one. They play a high standard of football. They don't give you any gifts on the pitch. You must achieve the win by suffering and by putting in your best effort, because if you are not in your best shape, you can easily lose. I have great respect for them and am curious to see what it will be like to play against them."
Italy play Sweden in their World Cup qualifier on the 11th of November, with the second leg to be played out three days later in Italy itself.
Kaustubh Pandey