Buffon, De Rossi and Barzagli retire from International football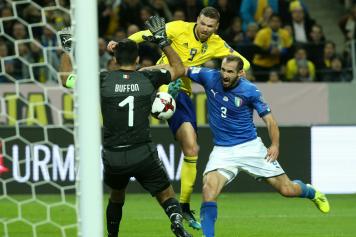 14 November at 00:54
Italy legends Gianluigi Buffon, Daniele De Rossi and Andrea Barzagli have announced their retirement from International football after tonight's draw against Sweden which has prevented the
azzurri
from qualifying for the incoming World Cup.
Buffon was the first player to talk to media after the San Siro draw and broke out in tears after the final whistle: "I'm not crying for me. I'm crying for this country for Italian football, because it would have been important to qualify, also socially not only in footballing terms", t
he 40-year-old told Rai.
Buffon announced his International retirement alongside 2006 World Cup winners Barzagli and De Rossi.
"It's a hard moment for our football", DDR told
Rai Sport.
"The federation has a very hard task now, this was my last game with the national team. We didn't deserve to be eliminated. I've had two skins in my career and I have to take one off me now, it's painful I wanted a different end.
The warm-up? I didn't told Ventura who to play, Insigne was close to me and I mentioned him, but it was nothing against anybody
, I wanted to qualify for the World Cup, I didn't want to play the qualification was the only thing that mattered."
​Barzagli
has also announced the end of his International career: "It's hard to end up my career with Italy without playing the World Cup. It's very hard for me but there are young players who want to emerge."
Giorgio Chiellini
has yet to decide whether to continue his International career or not: "I don't know if I will be playing with Italy again, Italy must have a fresh start now with Verratti and other footballers."