AC Milan: Calhanoglu impresses at times, But needs to show more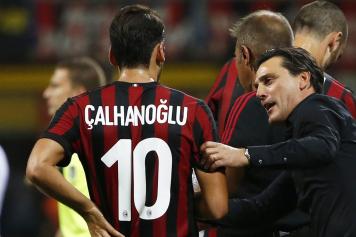 03 October at 11:15
No one can doubt Hakan Calhanoglu's technical qualities of which the playmaker oozes. From assisting goals, as well as his consistent performances over the years at Bayer Leverkusen. Mirabelli fell in love with the quality and technical ability and believes he can deliver for the club.
The best AC Milan fans have seen of Calhanoglu was in their match against Vienna in their Europa League victory. It was a brilliant performance at the same stadium that has hosted two champions league finals. The club encouraged the player to further adapt to the Italian league, with Montella playing the Turkish international against Spal, Rijeka, and Roma, only omitting him in the loss to Sampdoria.
Sadly Hakan has not fully convinced everyone, especially given the fans expected more classy performances given his stellar reputation from the Bundesliga. The player's expulsion in the game against Roma left many perplexed by his actions, as many players at this level cannot forget that they have been booked already.
One must also take into account the lack of game time Calhanoglu had due to his suspension last season. The playmaker lost half a season due to his ban and as such rust can easily be built up from lack of minutes on the pitch. Conversely there is also getting used to a new language and a new league which is technically different to the Bundesliga. Calhanoglu is considered a trequartista however Bayer regularly placed him out of position on the wing and thus AC Milan understand he must re-adapt to get the best out of the player. With Bonaventura returning to the fray, Hakan cannot expect to start every game and must make a leap of quality in order to assure his place in the side.