Cancelo and CR7: Chiellini shares his thoughts on new Juventus signings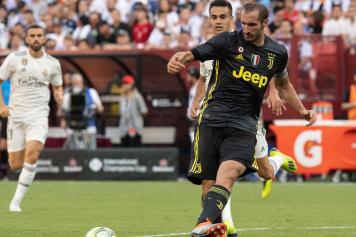 05 August at 11:50
Juventus captain Giorgio Chiellini spoke to the club's official website after the last ICC game:
"We had 15 intense days, with lots of trips in different and beautiful stadiums, we had some good matches. Now we will have a couple of free days and then we will meet with the rest of the team starting from Wednesday to really prepare for the season. I have to congratulate all the guys who were here, thanks to them we had a fantastic tour.
"The new players? They are integrating well, Cancelo has excellent qualities, and he is fitting in well: he has to understand some things, but he will be really useful, he is a player of good quality. Cristiano Ronaldo? Enthusiasm is good, we needed it to raise our level but we haven't won anything yet not Serie A nor the Champions League.