Cannavaro praises Sarri and Klopp, defends Allegri and Insigne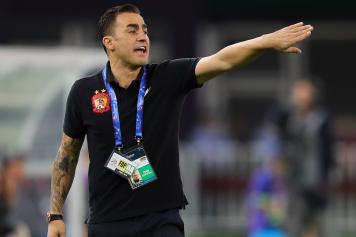 14 May at 18:30
From Juventus to Napoli: Fabio Cannavaro speaks openly about a wide range of topics, as the Guangzhou Evergrande coach granted a long interview to Il Corriere dello Sport.
ENGLISH DOMINATION - "They are the best and the most organized, not only the richest. They have an overview that adds to an atmosphere and a competitive rhythm useful to making a difference. Take Europe? Why did they import among the most advanced managers in the world, different but strategic for take-off: Guardiola, Klopp, Pochettino, Sarri and Emery have favored this explosion, merging two souls, the historical one of football - made up of almost incomparable intensity - with tactical dictates. The Premier travels at an impressive speed compared to that of the Serie A but also of Spain, France and, in some cases, of the Bundesliga."
JUVE ALWAYS WINNING- "They are ahead of the rest of the country that surrounds them. It is true, they have a big budget, but it has been built over time, through a policy of investments, with the young people of team B and then with women. Do things appropriately and then, when you're there, you understand what her soul is and what the difference is between playing and winning!
ALLEGRI TO STAY OR GO? - "I say that he should stay and I also wonder how we can possibly question a coach who gave you five championships and won six in his career. I understand the wound of the Champions League, but that is everyone, for example, from Guardiola's Manchester and Barcelona's Messi's Barcelona Luck has its role, in the key moment, and if you get there with a series of injuries or with someone off the pace, it can happen that even a big favorite gets lost "
NAPOLI - "In the Champions League they were never able to play a role, but it is understandable, and to have arrived is a result. In the championship, the last season's regret remains, one in which with Sarri the scudetto was close, and it was not easy to overcome that bitterness. But they should have gotten a little closer to Juventus."
ANCELOTTI - "A lighthouse. And this remains. The legacy of a team that had made it fall in love could only be complicated. I would not have changed the game system, but I understand that having purchased some players with different characteristics and then having lost Hamsik, it was difficult, but he is the guarantee."
INSIGNE - "The problem is not Insigne, but this tendency to look for a scapegoat for the first unsatisfactory result. Here they want to win everybody and we cannot always, because to triumph is always only one. It is the destiny of the prophets at home or who tries to be one, and when he loses, the hunt for the culprit starts, inevitably identified with his fellow citizen. What would I do in his place? Premise: the market does not do the players, that sometimes certain decisions suffer them. If I were in Insigne's shoes, I would stay and have no doubts: that shirt, that city, deserve to have a symbol, he knows it will be hard, that it will be enough to stumble to try again some bitter sensations, but by now he will be used to it. His home, where there are also those who love him, and become the reference."
GATTUSO - "A profound and serious discussion must be made: no one, and I mean nobody, has the merits that must be recognized to Rino. There is result and play in this Milan, which is fighting for a place in the Champions League. But I open the newspapers, I listen the TV and I see that it is being massacred. I told you on the telephone: he must change, he must not take responsibility, as he often does, but he must underline the commitment he puts into us and what it is succeeding in achieving."