Champions League Ranking: Barcelona jump on top, Liverpool just out of podium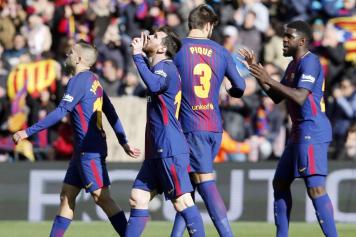 07 December at 17:15
Gazzetta dello Sport have come up with their latest UEFA Champions League rankings, in which they have placed Barcelona at the top of the pile.
The Catalans, who had Juventus in their group, have finished the group stage round at the top of the pile after picking up a 2-0 win over Sporting Lisbon on Tuesday evening.
Paris Saint-Germain rank second in the rankings, despite having lost 2-0 to Bayern Munich on Tuesday. Despite the loss though, Unai Emery's Parisiens have finished top of the group.
Pep Guardiola's Manchester City are at third, with Liverpool now at fourth following their 7-0 hammering of Spartak Moscow yesterday. Bayern Munich are fifth, followed by the struggling Real Madrid, who take up the sixth spot.
Manchester United and Tottenham are seventh and eighth respectively after having picked up wins of their own and despite having topped their groups.
Italian sides Juventus, Roma and Napoli have been handed slightly disappointing rankings, with Roma the highest Italian side at ninth with Juventus at tenth. Maurizio Sarri's Napoli are at a disappointing 19th, after they failed to qualify for the knockout stages.
Kaustubh Pandey