Chelsea and AC Milan boost as Ancelotti reveals which clubs he doesn't want to coach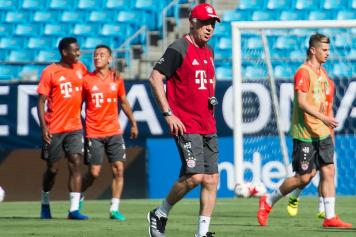 06 October at 14:23
Former Bayern Munich boss Carlo Ancelotti talked to assembled media on Friday afternoon revealing his plans for the future.
"Bayern Munich belong to the past. Sometimes it can happen to be sacked, there is nothing to be sorry for. I've always respected every player I've coached. As a manager I have to play 11 players and bench seven of them. It is up to the player and to the club to accept the manager's decision."
Both Chelsea and AC Milan are being linked with a reunion with Ancelotti at the end of the season. Antonio Conte, in fact, could leave the Stamford Bridge in the summer whilst Vincenzo Montella will be sacked if he fails to qualify for the Champions League.
"I don't know if I will return to Serie A or try another experience abroad. For sure I am not going to train in China."
AC Milan boss Montella has recently – jokingly – revealed that Ancelotti can now become his assistant. Here's how Ancelotti replied: "He could my assistant and vice-versa. We could coach one game each, we only have to find a team that will allow us to do it."
"I will remain on holiday for the next ten months, I don't want to take any other job before June. I respect Montella, Di Francesco and Ventura, I hope they will win all the games until the end of the season. I still want to coach club teams not national teams."