Chelsea and Liverpool target 'happy' at Fiorentina, describes Kaka as his idol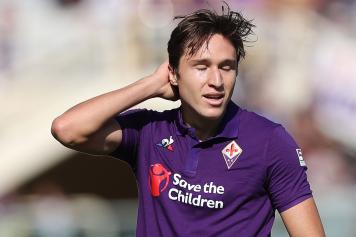 17 October at 10:15
He is the symbol of the current young Fiorentina side and is becoming an important player even for the Italian national team. Federico Chiesa is experiencing a season of maturation and was the protagonist
of an interview with Corriere
dello
Sport.
"Seeing my father play, I was also hoping to make my debut in football that counts. My brother better than me? I think so (laughs). I am convinced he can do well. But as of now, he is having fun, as it should be," he said.
"60 million? I only think of having to always prove my value, even though I find these numbers a little exaggerated. My priority is to show, Sunday after Sunday, who is Federico Chiesa. Now my head is ready for Cagliari.
"The transfer market? I am happy here at Fiorentina and I repeat, I am only thinking about the next match. The national team? It is a young Italy side, there is still a long way to go. My priority is only to be ready for the coach. I do not feel like a pillar, I just want to show that I deserve to be in the national team.
"My idols growing up? Without a doubt Kaka. Shevchenko has always fascinated me as a striker. My father? his support is fundamental for me, as well as my mother's. My family is a piece of my strength.
"What I can still improve? I can still improve in my decision-making. Dribbling is a merit, just like the fouls I suffer are a part of the game. I play where the coach asks me to be, it makes no difference whether on the left or right.
"Astori? Davide was the captain for all of us. He tied the whole locker room. When Hugo arrived at training camp, despite not speaking a word of Italian, it was he, in gestures, to make him understand what the coach asked.
"Every time a new player arrived, after being added to our WhatsApp group, it was always his first message "Hello, welcome".
"When I first entered the sports centre, I still remember him and Bernardeschi there. Davide was the first to great me. At the table, I always had the seat next to him because he made me sit there. That place remained there. Davide is always with us," Chiesa concluded.