Chelsea: Fabregas reveals what he misses most about Barcelona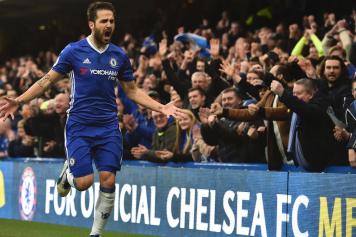 10 November at 13:15
Chelsea superstar Cesc Fabregas has revealed that his family and friends are the only things he misses about Barcelona.
The Spaniard initially started off as a youngster at Barcelona, coming through the ranks at the famed La Masia, only to be acquired by Arsenal in 2003. Barcelona resigned him in 2011, but the Catalan has now become a vital cog in Antonio Conte's wheel at Chelsea.
Fabregas was talking to Mundo Deportivo about a host of issues. Barcelona was one of them. When asked about his former club and how he is enjoying life at Chelsea, he said:
"Here I have found absolute happiness. The family is delighted, totally adapted to life here and the fans love me. I'm too happy to change. From Barcelona I only miss my family and my friends. "
He even admitted that he would want his kids to join the La Masia academy. He said: "Without any doubt: It is the best place in the world to grow as a person and as a footballer".
Fabregas went onto praise former boss Arsene Wenger for giving him the platform to grow into what he is today. He said: "He signed me when I was a Barça player and he put me in training with legends: Henry, Pirès, Vieira, Campbell ... He took me out to play. I did not always do it well, but he always kept calling me. It was not normal for him to bet so much on me. He sold Vieira to put me in the, he named me captain with 21 years. I owe him a lot. "
Kaustubh Pandey