Chelsea hope as Gattuso refuses to rule out Higuain January exit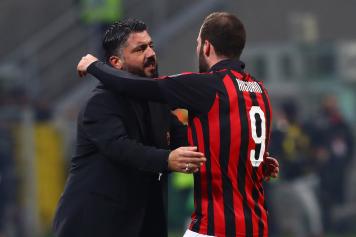 11 January at 18:35
Gennaro Gattuso can't guarantee that Gonzalo Higuain will remain at AC Milan in the January transfer window. "Gonzalo is fit. If he hadn't trained the way I want he wouldn't play tomorrow against Sampdoria. There are speculations about his future but his attitude is great. His agent speaks with Leonardo. I hope Gonzalo remains here as much time as possible. If he won't we'll see. During his time here he has to show the same commitment he is having now".
PAQUETA' – "He is a smart player. He looks like an European and not a Brazilian player. He combines quality and quantity. His brain works well, also on a tactical level. It's important, he's really surprised me. He always wants the ball, he runs behind his opponents, he is a great signing for us".
SUSO – "I don't think he has a groin injury. He has the usual problem that he's had in the last month. He's never trained with the rest of the team since we are back from holidays. He is not fit right now and he won't play. Caldara and Biglia are recovering, they'll be fit in 25/30 days".
CONTI – "Now everybody speaks about Conti. He's had two surgeries, I must play him smartly and give him the right game time. Rush is not useful, I don't forget what we did to have him fit".