Chelsea's Sarri turns 60 today: 'He remained the man he always was'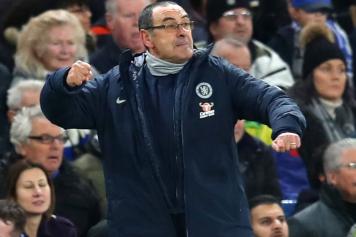 10 January at 14:30
Chelsea coach Maurizio Sarri turns 60 today. In Figline Valdarno, the town in Tuscany where he lives, Gabriele Bencivenni, son of the one who launched him and who in turn is the coach
spoke to La Repubblica
: "He is a workaholic. He had created a rudimentary database in which he recorded all the opposing players."
The sixtieth birthday of Maurizio Sarri does not fall in the happiest moment of his career. However, in Figline Valdarno, the town where the technician resides and where his wife and son live, his name bends his head and moisten his eyes.
When Sarri was still playing, in 1991, and have already guided the Stia, he was chosen in the middle of the season by Viviano Bencivenni, sporting director of Faellese, as a coach of the local team. The son of Bencivenni, Gabriele, born in 1984, grew up with Sarri and football. Today he combines the work of an office worker with the coach. A path similar in all to that of Sarri.
"Sarri the model? Sure, I play 4-3-3 with a lot of possession, aggressive game. Maurizio is a great friend of mine. We meet often and he is, above all, a source of great inspiration," he said.
"Sarri as a player? He was a central defender. He was very tough, he played at fair levels. He came to us at the end of his career and it was clear that he would work as a coach for the way he led the defence.
Tanti auguri a Mister #Sarri!
#ForzaNapoliSempre pic.twitter.com/WsyP1ls4X9

— Official SSC Napoli (@sscnapoli) January 10, 2019
"He was still very young when he started coaching, 31. He wore a black overall at that time. It was his rebellion to the everyday job: he went to work in the bank, jacket and a tie, and so when he put himself on the bench, he was free of the constraints and of the bon ton. He never changed, even in the big world, he remained the man he was.
Happy birthday Maurizio Sarri! pic.twitter.com/sFHMTkAjzQ

— Chelsea FC (@ChelseaFC) January 10, 2019
"Sarri was a workaholic. He had created a rudimentary archive. Today he would call it a database, in which he recorded all the opposing players, their characteristics. He went to see them and studied them, in order to improve his tactics.
"He has not always played with 4-3-3. Even in Empoli in Serie A he played with 3-5-2. He is an intelligent person and coach and knows how to adapt his ideas to the material. He is not a revolutionary at all costs, but he made a long journey before he imposed himself because he had no sponsors and saints in heaven, unlike many of his colleagues,"​ Bencivenni concluded.