Chelsea, Sarri: 'The Kepa issue is closed. Higuain needs to improve'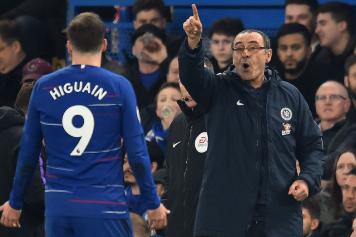 01 March at 19:15
Maurizio Sarri spoke to the media
ahead of Chelsea's matchup against Fulham and addressed several topics, including his argument with Kepa Arrizabalaga during the League Cup Final or the sacking of his colleague Claudio Ranieri by his next opponent, as well as the performances of Gonzalo Higuain.
"I am sorry not to face Ranieri but I know his character and I know he will immediately find another club," he said.
"As I said, the Kepa issue is closed for me. He is our first goalkeeper but we are happy that Caballero is ready to play difficult matches. We have two close matches coming on and Kepa will be on the field in one of these but I have not decided yet. I want to see the latest training and evaluate.
"Higuain? He has contributed well in the last game. He interacted well with his teammates but now he needs to improve his performances from a physical point of view.
"Sometimes the team has too much pressure because of the media, especially the young players. Every club is a business, we have to accept it, even if we do not agree with it. We have to live in this world.
"Our game approach? It depends on the match, opponents. We were good against City to wait in our half, we started differently against Tottenham, depending on the situation," Sarri concluded.